Storytime: Ocean Meets Sky
Submitted by Sara on Sat, 06/30/2018 - 12:39pm
It's a good day for sailing.

Finn lives by the sea and the sea lives by him. Every time he looks out his window it's a constant reminder of the stories his grandfather told him about the place where the ocean meets the sky. Where whales and jellyfish soar and birds and castles float.

Finn's grandfather is gone now but Finn knows the perfect way to honor him. He'll build his own ship and sail out to find this magical place himself!

And when he arrives, maybe, just maybe, he'll find something he didn't know he was looking for.

Join us in the Storytime Forest for this imaginative story with unbelievably rich illustrations.
Blue Baboon Books' storytimes are free, but we appreciate your support as you build your child's library.
Event date:
Wednesday, August 15, 2018 - 10:30am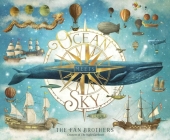 $17.99
ISBN: 9781481470377
Availability: Usually Ships in 1-5 Days
Published: Simon & Schuster Books for Young Readers - May 15th, 2018
"Young readers will be captivated." —The Washington Post

From the creators of the gorgeous bestseller The Night Gardener comes a stunning new picture book about a young boy who sets sail to find a place his grandfather told him about…the spot where the ocean meets the sky.

It's a good day for sailing.

Finn liv
---